Much of my sanity revolves around keeping things in order during our homeschool time. While one of our kids has a brain that thinks much like mine, a few others tend to move in opposite directions. One way that we have been able to track the kids studies has been through the use of a Student Planner.
A few years ago our girls asked me to create a full-sized Student Planner for them. Half-sized planners just weren't cutting it for them, so together we came up with one they both loved. Both have used the Student Planner every year since then and this year Zachary joins their ranks.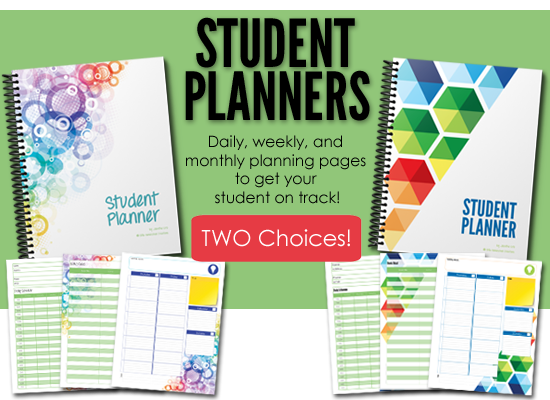 These planners have been a huge help to our girls in keeping their studies on track, making weekly and monthly goals, and even planning their weekends.
The Student Planner contains :
8 1/2" x 11" undated pages – use it year after year!
Year at a glance dates
Student information and schedule page
12 blank monthly planning pages
Weekly planning pages for 8 subjects
Planning for every day of the week (smaller spaces for Saturday/Sunday)
Goals, notes, and 'what I learned' section
Tracking for books read
2 layouts: August through July or January through December
access to a 'buyers only' page where optional pages will be added including additional dated covers and other pages as readers/users request.
This week only, my Student Planner bundle is included as a part of the Parenting Super Bundle.
Mom Needs a Planner too…
Now while I adore our student planner very much, I also like to keep our homeschool studies in order too. The kids have a lovely planner and I wanted something pretty for myself. One of the things I've been working on is a paper and pen version of my homeschool planner. I've been using it the past two years and love it – it's simple but pretty. Efficient. While I love my online planner, staying off my laptop during school time has been important to me. This planner makes me smile (and that's a great thing).
Anyway, although the planner isn't available yet for sale on my site, I wanted to offer it to you all as a special bonus this week.
If you purchase the Parenting Super Bundle through my link this week, I would love to send you the pdf copy of my watercolor poppy Weekly Homeschool Planner for FREE.
I will be offering it for sale soon at $10, and along with my Yearly Home Planner (included in the bundle), these are the two planners that help me keep my life in order – and I want to share this newest one with you.
This special offer is only available until Monday, May 1st when the bundle sale ends
.
A few things to know about this planner:
It's undated, so you can print it each year to use again (just like my student planners).
It's colorful – not overly crazy, but subtle. Pretty makes planning fun.
There is plenty of room for weekly planning and also a month-at-a-glance page.
There is a bonus download page, which will include a few editable pages to download as well (see the link at the back of the planner for the password to use).
Additional pages include field trip planning, notes, curriculum planning, yearly attendance, curriculum wish-list, read-aloud and audiobook tracking, homeschool requirements, curriculum key, and names/address – with more to come on the bonus page.
How to Get Your Copy of the Planner

If you would like to take advantage of this offer, here's what you need to do.
Purchase a copy of the Parenting Super Bundle
Email me [email protected]} with your receipt
I will send you the pdf copy! Just mention this deal and let me know.
Simply copy the below and paste it into your email (I'm all about making it easy for you):
I purchased the Parenting Super Bundle through your link, my receipt/invoice # is below. Please send me the NEW Homeschool Planner you mentioned on your site.
I can't wait to share this planner with you – and I know too that you will love the Parenting Super Bundle. There are so many resources to love and use in the months and years to come.

p.s. Don't forget this bundle comes with a 30 day money back guarantee – which is a lovely thing! If it isn't all you hoped for, simply ask for a refund.
p.p.s Not interested in purchasing the bundle but you'd like a copy of the Student Planner? Choose from the following: